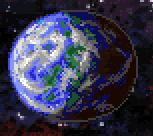 Xenon is a peaceful blue planet in the Earnon solar system of the Earnon galaxy.
Background
Edit
It is ruled by democracy. It is the home of StarCon, and as such, a large number of varying species reside here. It was settled by humans from Terra III[1]. Even without the presence of any trade with Earth that may have originally stimulated Xenon's economy, there are still a large number of banks, shopping malls, research labs, factories, and evil geniuses which demonstrate Xenon's vitality.
Indeed, its inhabitants have been demonstrated as being successful enough to even have saved entire universes. Their janitors possess, for the most part, superior intelligence. One exception is Roger Wilco. Outside of cities, people must be careful when traversing the fields of poison okra on Xenon.[2]
It is the home of the Federation president who is main leader of the StarCon Federation.
There are some differences between Xenon and the Xenon (original version) following Roger Wilco's various time travel trips. But the full extent of change is not known.
The people of Xenon still read or receive publications from Earth, and utilize Earth based dating systems (for whatever reason).
Originally the Sun of Xenon, Xenon's original sun was dieing. Following the creation of the Star Generator, Xenon now has two suns.
Locations
Edit
Native Races
Edit
Xenonites[5] include humans, clones, and obi ones.
Behind the scenes
Edit
Though the language spoken on Xenon is Xenonian, the race is consistently said to be "human". Roger himself is said to be "human"[7] and in SQ6 he even admits he is human.
Xenon is named after a type of noble gas.
References
Edit
External links
Edit
Community content is available under
CC-BY-SA
unless otherwise noted.