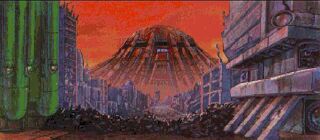 Space Quest XII: Vohaul's Revenge II (aka Space Quest 12, or Space Quest XII--Vohaul's Revenge II (A new beginning)), is a future time sector in which Xenon has been overrun by Sludge Vohaul (in the form of the Vohaul virus) and his minions. A band of rebels is all that remains of Xenon's future inhabitants. Space Quest XII was visited by Roger Wilco by way of Space Quest 4 in his efforts to save Xenon and his son Roger Jr. from Vohaul.
It's indicated that Roger Wilco is 'gone' possibly dead or missing in this time era. Not even Beatrice Wankmeister exists in this era as well (perhaps both having died or gone missing as early as Space Quest VII: Return to Roman Numerals (time sector) during the paradoxical 'third?' revenge of Sludge Vohaul).
Behind the scenes
Edit
Space Quest XII (unofficial)
The distant tower resembles the Tyrell building in Blade Runner
Community content is available under
CC-BY-SA
unless otherwise noted.