The information from this article is from a non-official source and is therefore not canon.
Space Quest IV.5: Roger Wilco and the Voyage Home tells the story of Roger Wilco after his return from Space Quest XII to Magmetheus.
The premise behind Roger Wilco and the Voyage Home is that Roger returns Magmetheus in order to pick up the Aluminum Mallard before it is impounded. He is successful and uses it to ultimately reach StarCon. In the game Roger meets the Latex Babes of Estros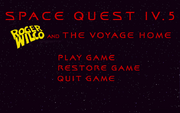 for the first time, chronologically. He visits another Galaxy Galleria, makes a pit-stop at Monolith Burger, and, after some trouble with the Latex Babes, begins his training at Starcon Academy where he meets Captain Raemes T. Quirk and enters the SCS Goliath.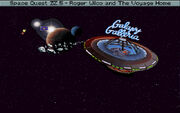 The story concerning the Aluminum mallard after SQ4 is in conflict with the official explanation in the Space Quest Companion, in which the Aluminum Mallard had been impounded and towed away in order to pay for his debts, before Roger returned to Magmetheus. This forced him to pay for a ticket back to Xenon with the few buckazoids he had left
A new Version of Space Quest IV.5 is completed.
It features now:
Full voice acting, including a narrator (but no lip sync)
Extended plot compared to the original Version of Space Quest IV.5 (extended credit sequence, extended ending, extra narration)
New Locations (new Magmetheus bar screen, new Aluminum Mallard screen, a new planet, new Starcon landing bay, new background screens (Galaxy Galleria, Illochin/Illochen Drydock) improved navigation screens)
A 75 minutes long orchestra Soundtrack (new music at The Bar)
Over 90 interactive screens
This is the first space quest game where there is no way to actually die (there is also no way to die in Space Quest -1: Decisions of the Elders).
Much of the artwork from the game is taken from various Sierra games including SQ1, SQ3 (modified), SQ4, SQ5 and EcoQuest 1 and 2. Other screens originate from non-sierra titles.
The inside of the Alluminum Mallard is a modified screen from SQ3 in 1.1, it is replaced with original hi-res art in 3.00.
In version 1.1, the front room of the Magmetheus Bar is taken from SQ1 (the screen was replaced in 3.00 with a two screen-wide scrolling screen).
Artwork in version 3.00 varies between 320 x 200 VGA and 640x480 SVGA style graphics.
Cedric the Owl from King's Quest V can be seen in the Galaxy Galleria (version 1.1).
Zondra's full name Zhondra Wysiwig appears in the credits.
Community content is available under
CC-BY-SA
unless otherwise noted.