Name:

Space Quest III Remake

Team lead(s):
Start date:
Release date:

Unknown

Website:
Releases:
Summary:

A recreation of SQ3

Engine:
Position on the SQ timeline:

SQ3
KAULA!
New fan remake of Space Quest III by Dogma Day Games. Includes:
Full voice acting, including a narrator.
Extended plot for those who thought the original was way too short.
VGA backgrounds in a unique style.
Space Quest V styled sprites.
Fun new ways to die.
Several new puzzles.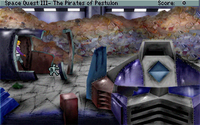 The game is in production right now. No release date can be predicted, but hopefully it will be done eventually.
The Story
Edit
We last left our hero, Roger Wilco, drifting aimlessly through space after destroying Vohaul's space fortress. The ship is low on fuel, and Roger lies asleep inside...but not for long. Roger wakes up on a garbage ship. Now dazed, stupefied, and wondering what he's doing there, Roger has to find a way out. Roger must travel to alien worlds, do random things, and once again save the universe from evil.
Production
Edit
So far the remake is getting a lot of stuff done. All the death message pics are finished, several backgrounds have been done, and a good time is being had on the production crew. The game is being programmed in AGS, a powerful tool for adventure game making.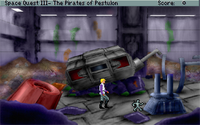 Extended Plot?
Edit
Remake Astro Chicken
Edit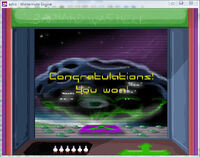 Astro Chicken was remade as a separate minigame for the never-completed SQ3VGA. It features multiple levels and "space wind". There is no secret code presented at the end of the remake.

Community content is available under
CC-BY-SA
unless otherwise noted.