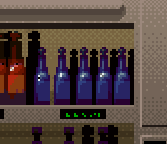 The Silverberg Bullet is one of the drinks available from the Boot Liquor in SQ6.
"There's no slowing down with the Silverberg Bullet tonight!"
References
[
]
"Silverberg Bullet" is a play on Coors beer ("The Silver Bullet won't slow you down!" was the company's slogan in the mid-'90s) and the sci-fi author and Nebula winner Robert Silverberg.