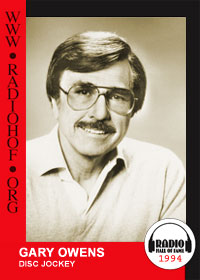 The narrator of Space Quest 4 and Space Quest 6, Gary Owens was born in Mitchell, South Dakota, on May 10, 1934, and began his radio career as a teenager reading the news on KORN/Mitchell. He became a seasoned traveler in the 1950s, mixing his offbeat humor with music at stations in Omaha, Denver, Dallas, St. Louis, San Antonio, New Orleans, Houston and Oakland.
Owens hit the big time in 1961, when he moved to Los Angeles and became the morning host for KFWB. A year later, he became the afternoon disc jockey at KMPC/Los Angeles, where he remained for 20 years. Today, Owens is heard nightly on over 200 stations as part of the syndicated "Music of Your Life" network.
Over 30 years, Owens reached national audiences with a series of syndicated comedy and music programs, including Soundtrack of the Sixties, Superfun, and Gary Owens' Weekend Spectacular.
Owens has enjoyed a continued presence in television and animation. Perhaps his best known role was that of the announcer on Rowan and Martin's Laugh-In. He has been heard on countless commercials and provided voices for the animated characters Space Ghost, Roger Ramjet and Ren & Stimpy's Powdered Toast Man. He also voiced the villain Feral in Swat Kats: the Radical Squadron and the opening narrator in Garfield and Friends and Buzz Lightyear of Star Command.
Gary Owens was inducted into the Radio Hall of Fame in 1994.
Owens was to provide narration for the TGFA's latest project, SpaceVenture.
Owens died in February 2015 of type 1 diabetes.
Community content is available under
CC-BY-SA
unless otherwise noted.